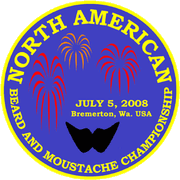 The 2008 North American Beard and Mustache Championship was the first NABMC championship event. The event was organized by the Whisker Club. The event took place on July 3, 2008 in Bremerton, Washington from Elks Lodge BPOE 1181. The championship followed the rules as seen in World Beard and Moustache Championships and included men from several American states, Canada, England, Sweden, Germany, and India.
List of Winners
Edit
Natural Moustache
Edit
Dali Moustache
Edit
Hungarian Moustache
Edit
Freestyle Moustache
Edit
Partial Beard Natural
Edit
Partial Beard Chinese
Edit
Partial Beard Musketeer
Edit
Freestyle Sideburns
Edit
Partial Beard Freestyle
Edit
Full Beard Garibaldi
Edit
Natural Beards with Styled Moustache
Edit
Full Beard Natural
Edit
External Links
Edit
Ad blocker interference detected!
Wikia is a free-to-use site that makes money from advertising. We have a modified experience for viewers using ad blockers

Wikia is not accessible if you've made further modifications. Remove the custom ad blocker rule(s) and the page will load as expected.