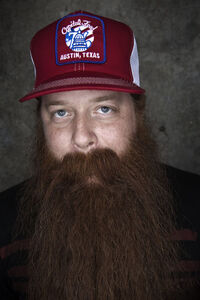 Bryan Allan Nelson is a member of the Austin Facial Hair Club. He was born in Orlando, Florida. He is a studio engineer, musician, and record label owner. Nelson also is a father, husband, skateboarder, and bicycle enthusiast. He is also a goat owner.
He is a resident judge at the Misprint Beard Contest in Austin, Texas. In 2010, he received a Lifetime achievement award for Beardness.
Ad blocker interference detected!
Wikia is a free-to-use site that makes money from advertising. We have a modified experience for viewers using ad blockers

Wikia is not accessible if you've made further modifications. Remove the custom ad blocker rule(s) and the page will load as expected.